Posted on
khodahafez, taabestaan
a couple of weeks ago i scrambled to make the best of the end of summer produce. although i'll have loads of mushrooms and squash and beets to look forward to, i'll miss being able to easily make fresh renditions of these: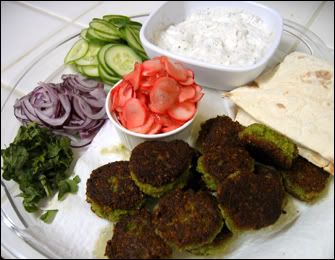 spring pea falafel with marinated radishes and minted yogurt

grilled beef sates with peanut sauce and jasmine rice

antipasti salad

corn and jalapeno muffins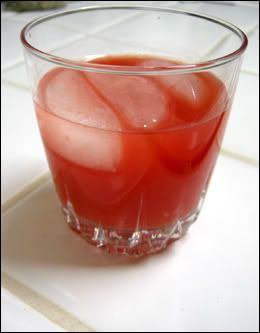 watermelon-ginger lemonade
here's the recipe for the falafel:
1/2 cup dried yellow split peas
1 1/2 cups frozen peas, thawed
1/2 cup chopped onion
1 T flour
2 T chopped parsley
2 garlic cloves, chopped
1 t ground coriander
1 t ground cumin
1/2 t baking powder
1/4 t cayenne pepper
1 T fresh lemon juice
1 t salt
3 T olive oil
1. working in two batches, grind the split peas to a powder in a spice grinder. in a food processor, pulse the thawed peas a few times. add the ground split peas, onion, flour, parsley, garlic, coriander, cumin, baking powder, cayenne, lemon juice and salt and process until thoroughly combined. form the mixture into 12 falafel patties. refrigerate until firm.
2. in a large nonstick skillet, heat the olive oil. add the falafel patties in two batches and cook over moderately high heat until browned, crisp and heated through, about 3 minutes per side.
3. serve the falafel with flatbreads, yogurt, sliced red onions, fresh herbs, and marinated radishes.