i don't know why this is, but i'll often not go to the cinema for months and then i'll suddenly begin going at least once a week for a stint of time before i stop paying attention again. i saw babel on saturday (not enough gael garcia bernal methinks) and marriage, iranian style on sunday (hilarious, and dom was a good sport about the buffooning american character).
and of course i've been cooking, but i'm beginning to realize i hardly take pictures of anything aside from food anymore. i'm going to try and change that. until then: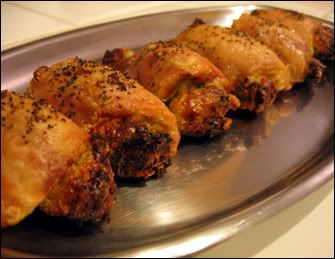 herb and cheese filled chicken thighs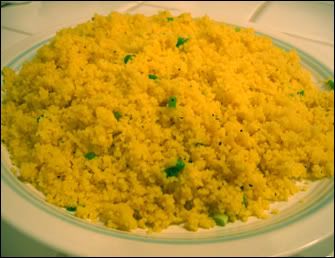 saffron couscous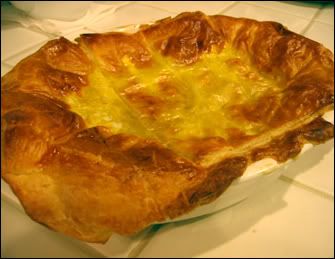 philadelphia clam pie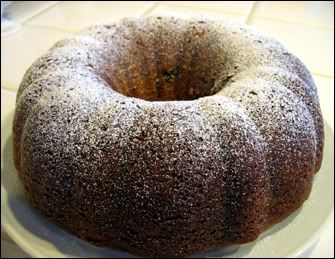 nutella bundt cake
here's the recipe for the cake:
cooking spray
1 1/2 cups granulated sugar
1/2 stick butter, softened
2 eggs
1 t vanilla extract
1 16 oz carton low-fat sour cream
2 1/2 cups flour
1 t baking powder
1/2 t baking soda
1/4 t salt
1/4 cup toasted walnuts or hazelnuts, toasted
3 T nutella
1 t powdered sugar
1. preheat oven to 350 degrees and coat a bundt pan with cooking spray.
2. place granulated sugar and butter in a large bowl; beat with a mixer at medium speed until well blended. add eggs, 1 at a time, beating well after each addition. add vanilla and sour cream; beat lightly until blended.
3. combine flour, baking powder, baking soda, and salt in a bowl, stiring until well combined. add flour mixture to sugar mixture, stirring just until combined.
4. spoon half of batter into bundt pan; sprinkle with nuts. drop small spoonfuls of nutella over nuts. spoon remaining batter over nutella; swirl batter using the tip of a knife. bake at 350 degrees for 55 minutes. cool in pan for 15 minutes; remove cake from pan. cool completely and sprinkle cake with powdered sugar.