Posted on
everyone says i cook too much east asian food. i guess its true, but i never tire of it. i mean, there's so much to discover. and this of course includes chinese food. these are adapted from martin yan recipes: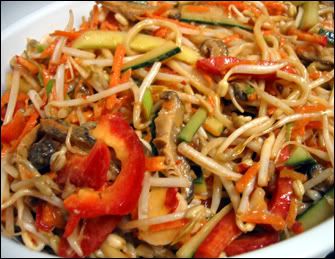 sichuan spicy noodle salad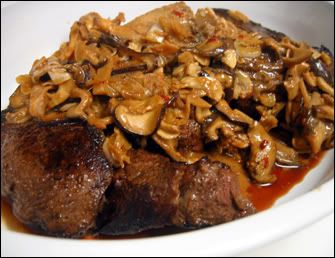 macanese steak with mushrooms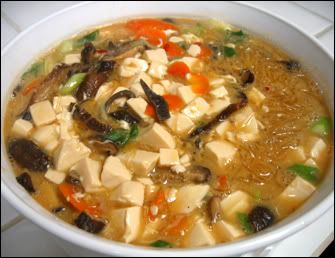 hot and sour egg flower soup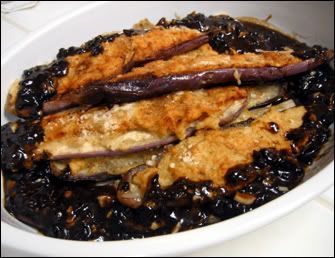 hakka shrimp-stuffed eggplant with black bean sauce

gum-lo wontons with seafood sweet and sour sauce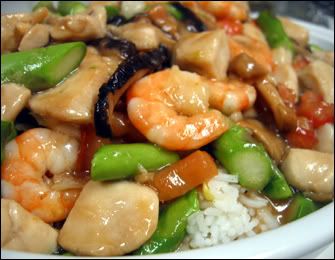 fujian fried rice
here's the recipe for the soup:
3 dried black mushrooms
1 dried wood ear mushroom
2 ounces dried bean thread noodles
4 cups chicken broth
1/4 cup carrot, sliced thinly
1/2 package medium tofu, cut into 1/2-inch dice
3 tablespoons white vinegar
3 tablespoons soy sauce
1 tablespoon chili garlic sauce
2 teaspoons sugar
1 tablespoon cornstarch, drissolved in 2 tablespoons water
1 egg, lightly beaten
1 green onion, sliced thinly
1. soak mushrooms with warm water until soft, about 20 minutes. drain and slice thinly.
2. soak noodles with warm water until soft, about 10 minutes. drain and cut into four-inch lengths.
3. bring the chicken broth to a boil in a large saucepan. stir in the mushrooms and carrot, simmering for about 2 minutes.
4. stir in the noodles, tofu, vinegar, soy sauce, chili garlic sauce, and sugar. simmer for about 2 minutes. pour in the dissolved cornstarch and cook, stirring, until the soup boils and thickens, about 1 minute. slowly pour in the egg, stirring the soup to create "egg flowers."
5. ladle the soup into bowls and garnish with green onions.