Posted on
i don't make desserts often, partially because i don't have much of a sweet tooth and partially because i usually second guess my method if i'm baking. but every once in a while, i stumble across a recipe that instantly becomes a favorite, one of those i know i'll turn back to time and time again. crepes with carmelized apples, rum sauce, and vanilla ice cream is one of those: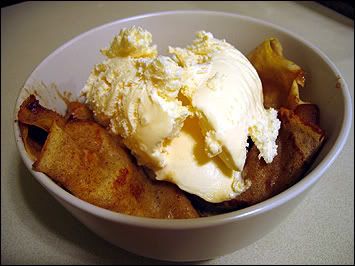 also: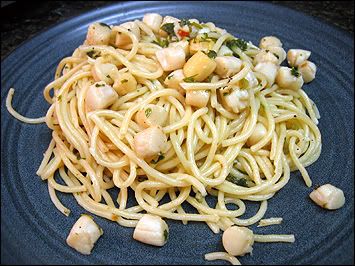 spaghetti with scallops, white wine and chile-butter sauce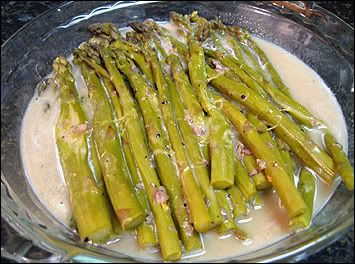 steamed asparagus with anchovy butter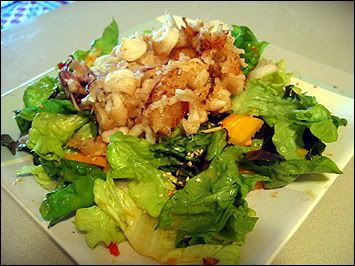 calamari, papaya and cashew salad
here's the recipe for the crepes:
3 eggs
1 cup milk
5 T dark rum
6 T butter
1 T sugar
1/2 t salt
1 1/2 t ground cinnamon
1 c flour
3 lbs medium golden delicious apples, peeled, quartered, each quarter cut into 3 wedges
1/2 cup brown sugar
1/2 cup apple juice
2 T lemon juice
1 t grated lemon peel
vanilla ice cream
1. mix eggs, milk, 2 tablespoons of the rum, 2 tablespoons of the butter, sugar, salt and 1/2 teaspoon of the cinnamon in a blender until smooth. add flour in 2 additions, blending until smooth after each and scraping down sides of the container. let batter stand at room temperature for an hour.
2. heat nonstick skillet with 7-inch diameter bottom over medium-high heat. brush with melted butter. pour in 3 tablespoonfuls of crepe batter, rotating and shaking pan so batter covers bottom evenly. cook crepe until golden on bottom, about 45 seconds. turn crepe over and cook until light brown in spots, about 30 seconds. turn crepe out onto paper towel. repeat with remaining batter, brushing pan with butter before making each crepe.
3. melt remaining 4 tablespoons butter in large skillet over high heat. add apples, saute until deep golden and tender, tossing often, about 15 minutes. add sugar, apple juice, lemon juice, lemon peel, and remaining 1 teaspoon cinamon. simmer until juices thicken and apples are very tender, turning with spatula, about 3 minutes. remove from heat.
4. butter large ovenproof rimmed platter. arrange crepes on work surface and spoon apples into center of crepes, dividing equally and leaving sauce in skillet. fold 1 side of crepes over filling; roll up, enclosing filling. arrange on platter, seam side down. stir ru into sauce in skillet. bring to boil, stirring.
5. preheat oven to 350F. spoon sauce over crepes. bake until warm, about 10 minutes. serve with ice cream.