Posted on
the most recent foray into the kitchen: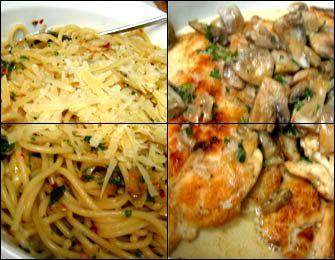 spaghettini with garlic and olive oil, and sherried mushroom chicken scallopine.
here's the recipe for the chicken:
to compensate, here is the recipe for the last update's dish – sherried mushroom chicken scallopine:
ingredients:
4 boned, skinned chicken breast halves
1/2 cup flour
4 tbsp olive oil
6 oz mushrooms, quartered
2 tbsp minced shallots
1/2 tsp dried thyme
1/4 cup sherry
1/4 cup chicken broth
2 tbsp whipping cream
1 tbsp chopped parsley
salt and pepper
1. sprinkle both sides of chicken breasts with salt and pepper. place halves between sheets of plastic wrap; with a mallet pound chicken to an even 1/4 inch thick. peel off wrap.
2. put flour in a shallow container. turn each piece of chicken in flour to coat.
3. set a nonstick pan over medium-high heat, add 2 tbsp olive oil. lay chicken in pan; cook, turning once, until no longer pink in the center, about five minutes on each side.
4. add 2 tbsp olive oil, mushrooms, shallots, and thyme to hot pan used to cook chicken and stir often over high heat until mushrooms are browned, about five minutes. spoon over chicken.
5. add sherry, chicken broth, and cream to pan; stir until mixture is boiling. boil, stirring occasionally, until juices are slightly reduced, about 1 minute. spoon sauce over chicken. sprinkle with parsley and salt and pepper to taste. serve with a simple spaghettini tossed with sauteed garlic, hot pepper flakes, parsley, parmesan and olive oil.