Posted on
savory cuts of meat and hearty bowls of soup. to me that's what fall cooking is all about. well, at least a pretty big part of it. can't forget breads. oh, and earthy root vegetables. that too.
here's what i've been cooking:

beet and raspberry salad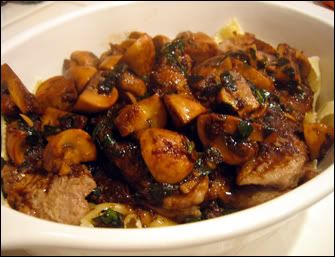 veal marsala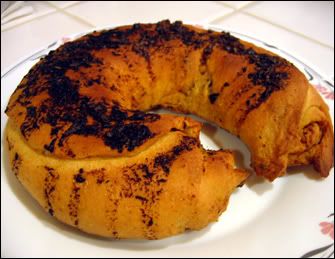 multilayered anchovy bread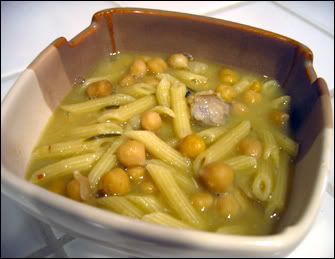 pasta and chickpea soup with clams
here's the recipe for the soup:
1 cup dried garbanzo beans (chickpeas)
5 T olive oil
3 garlic cloves, peeled
1 fresh rosemary spring
1/4 t dried crushed red pepper
1 1/2 lbs small clams
1 cup short hollow pasta
1. place beans in bowl. pour enough warm water over to cover; let soak at room temperature overnight. drain. place garbanzo beans in large saucepan; add enough fresh water to cover. boil 15 minutes. drain.
2. return beans to pan; add 4 cups water, 3 tablespoons oil, 2 garlic cloves, rosemary spring, and crushed red pepper. bring to boil. reduce heat and simmer uncovered until beans are tender, adding more water as needed by 1/2 cupfuls, about 2 hours. discard rosemary spring.
3. transfer 1 cup garbanzo bean mixture to processor and puree until smooth; reutrn to mixture in saucepan.
4. heat remaining 2 tablespoons oil in heavy large skillet over medium-high heat. add remaining garlic clove, saute unti golden, about 2 minutes. add clams and 1/4 water; cover and cook until clams open, about 5 minutes. cool clams slightly; reserve pan juices. working over bowl to catch juices, remove clams from shells; discard shells.
5. strain pan juices and clam juice from bowl into garbanzo bean mixture, then add 3 1/2 cups water and bring to boil. add pasta and cook until pasta is al dente, adding more water if soup is too thick and stirring occassionally, about 10 minutes. stir in clams. season to taste with salt and pepper.