Posted on
entekhabat
it appears my post-grad school life is consisting of three things so far: reading whatever i can get my hands on, cooking like a 1950's sitcom housewife, and researching jobs.
i'm halfway through palace of desire, part two of naguib mahfouz's celebrated cairo trilogy.
i spent some time yesterday cooking up dinner: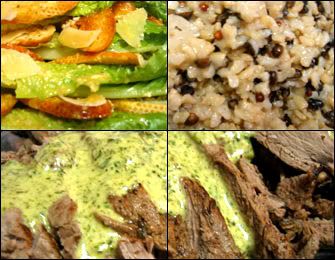 stacked ceasar salad with parmesan rafts (homemade dressing makes all the difference) | wild rice with shallots | oven-roasted steak with bernaise sauce

chocolate mousse (i learned the hard way that only cream and not a mixture of cream and milk will foam into nice thick clouds.)
the presidential elections in iran are getting underway right about now. at this point the presidency could go to any party; its hard to tell what the outcome will be. its a close race. it'll be interesting to see what happens if no one garners over fifty percent of the votes and the elections face off to a second round in the next couple of weeks.