Posted on
sunday evenings are always a bit naaraahat konandeh because they signal the end of yet another fantastic weekend. this time around the boy and i made up for not being able to spend valentine's day together. (i know its a commercialized holiday and all, so i guess its not so bad that we still haven't been able to spend one together.)
but i'm still trying to play blog catch-up, so i'll make sure to write about my last two weekends in my next entry. for now i'll make do with the japanese food i've been cooking as of late: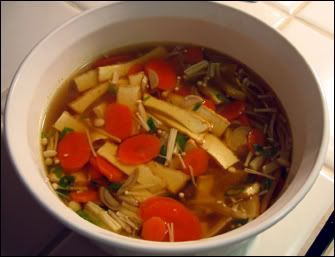 burdock root and fried tofu soup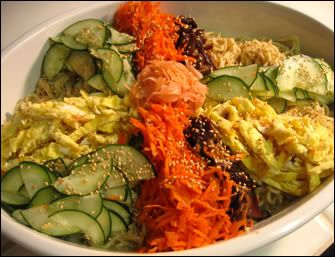 chilled sesame-miso noodle salad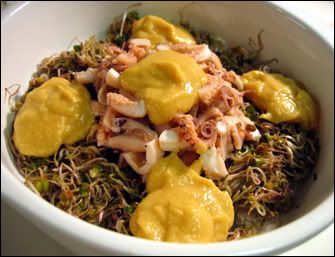 octopus salad with radish sprouts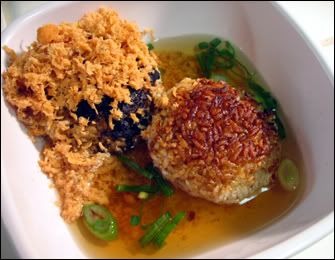 toasted rice and salmon flakes in green tea broth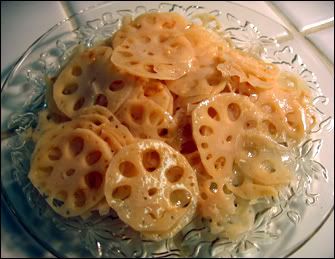 sweet and sour lotus root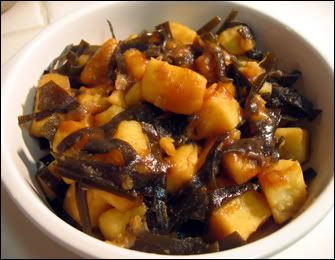 sweet potato simmered with kelp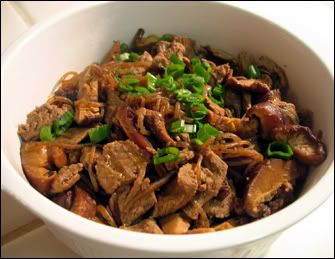 soy-stewed beef
Here's the recipe for the sweet potatoes:
Ingredients:
20 square inch pieces kombu (kelp)
1 sweet potato, cut into one-inch chunks with skin intact.
4 1/2 cups cold water
1/2 cup loosely packet katsuo-bushi
1 1/2 tablespoons sugar
2 tablesoons soy sauce
1 1/2 teaspoons mirin
1.  Place the kombu in a pot with the water. Let soak for 15 minutes, then place over medium heat. Remove the pot from the heat as soon as small bubbles begin to break the surface. Add the katsuo-bushi, scattering the flakes across the surface of the water. After 5 minutes, strain the broth with a fine sieve. Reserve the kombu pieces and slice into thin strips.
2. Place the potato chunks and kombu in a pot with the reserved stock and bring to a simmer over medium-low heat. Simmer for about 10 minutes, or until the potatoes and kombu are tender. Add the sugar, soy sauce, and mirin, distributing evenly. Simmer for five more minutes and then remove the pot from the stove.
3. Allow the vegetables to cool to room temperature in whatever cooking liquid remains in the pot, and serve.