Posted on
i don't cook dishes from the americas (both north and south) very often, not because i don't like the cuisine, but rather because my few attempts haven't turned out nearly as successful as my more eastern-oriented efforts.
but i gave it a try again, and i can't say i did too bad: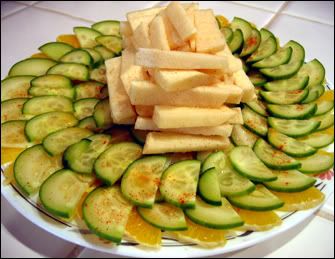 jicama, cucumber, and orange salad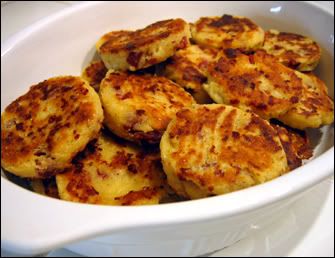 mozzarella and chorizo arepitas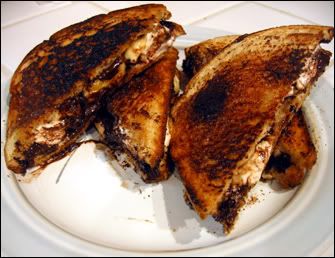 banana and s'mores sandwich (okay so this burned a little)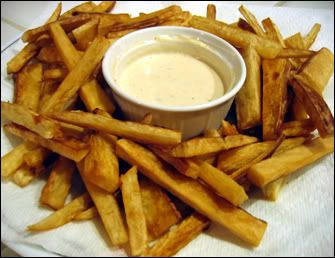 yuca fries with chipotle mayonnaise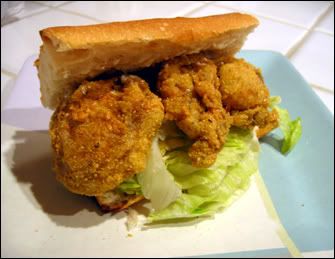 oyster po'boy
here's the recipe for the po'boys:
1 egg
1/2 cup milk
2 t salt
2 t pepper
1 cup flour
1 1/2 cups yellow cornmeal
2 t cayenne
2 jars shucked small oysters, drained
vegetable oil
1 loaf soft french bread
1/4 mayonnaise
1 cup thinly sliced iceberg lettuce
1. beat together egg, milk, 1/2 teaspoon salt, and 1 teaspoon pepper in a bowl. whisk together flour, 1/2 teaspoon salt, and remaining teaspoon pepper in a shallow baking dish. whisk together cornmeal, remaining teaspoon salt, and cayenne in another shallow baking dish.
2. dredge a few oysters in flour, then dip into egg mixture, and dredge in cornmeal mixture, knocking off excess. coat remaining oysters in same manner.
3. heat oil in a large pot over high heat until hot but not smoking. while oil is heating, halve bread crosswise, then cut each piece in half horizontally, cutting all the way through. put bread in oven and heat for 5 minutes at 350 degrees.
4. while bread is heating, gently drop half of oysters into hot oil and fry, turning occasionally, until golden, about 1 minute. fry remaining oysters in same manner.
5. spread mayonnaise on cut sides of bread, then make sandwiches, topping lettuce with oysters. halve each sandwich crosswise for a total of 4 sandwiches.