Posted on
in an effort to hang on to the last vestiges of summer, i've been trying to cook as much 'fresh' food as possible before all the good produce dissapears from the markets for the year. so i made greek and caribbean food: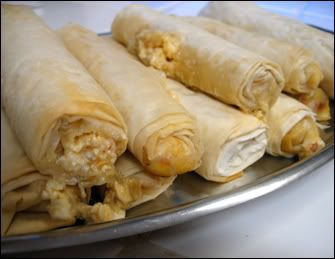 cheese and sun-dried tomato phyllo rolls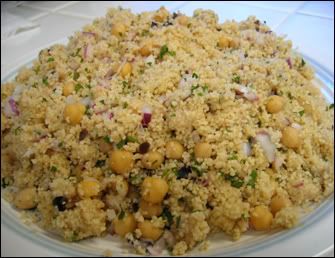 couscous with olives and garbanzo beans

hot pepper shrimp

cuban red beans and rice

ginger beer
here's the recipe for the couscous:
1 14-oz can low-sodium chicken broth
1 10-oz box couscous
1 cup dry garbanzo beans, soaked overnight, cooked, and drained (or substitute 1 can garbanzo beans)
1/2 cup chopped red onion
1/2 cup chopped kalamata olives
1/2 cup chopped fresh parsley
4 T fresh lemon juice
1 t grated lemon peel
1. bring broth to boil in medium saucepan over medium-high heat. stir in couscous; cook 30 seconds. remove from heat; cover and let stand 5 minutes.
2. fluff couscous with fork. mix in garbanzo beans and remaining 5 ingredients. season with salt and pepper.