Posted on
okay, so i cook too much east asian food. i don't seem to tire of it though. here's the japanese dishes i've been cooking: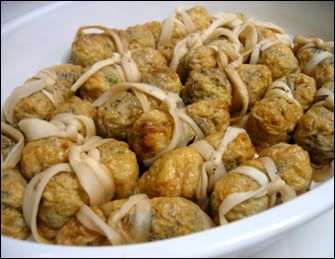 tofu pouch treasure boats

omusubi (hand-pressed rice with mushroom-kelp and pickled plum fillings). they tasted just like the ones i had in honolulu!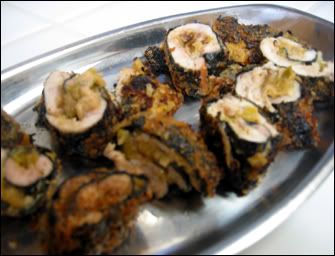 bite-sized chicken tonkatsu. these didn't turn out so good.
here's the recipe for the treasure boats:
2 ribbons kampyo, soaked in warm water
1/4 t coarse salt
6 oz shirataki noodles, drained and coarsely chopped
8 fried tofu slices (aburage)
1 T hijiki, soaked in warm water
3 fresh shiitake mushrooms, thily sliced
1/2 carrot, finely shredded
2 T shelled green peas
1 cup sea stock (made by soaking 10 inches kelp in warm water for 15 minutes, then slowly brin to a simmer, remove from heat, add 3 tablespoons katsuo-bushi and let sit for 3 minutes, then strain)
1 T sake
2 t sugar
1 1/2 T soy sauce
1. remove the kampyo from the water and squeeze out excess liquid. rub with salt, kneading the ribbons until soft, about 30 seconds. bring a small pot of water to a boil, add the kampyo, and blanch for 30 seconds. drain.
2. cut each tofu slice across in half and pry open each half to make a square pouch.
3. in a bowl, combine the softened hijiki, shirataki noodles, mushroom, carrot, and peas. stuff each pouch with a portion of the vegetable mixture. close by pressing down on one open edge, tucking it in to enclose the filling. roll the stuffed tofu over so the 'seam' is on the bottom.
4. tie a kampyo ribbon around the tofu pouch, making a knot on top. snip the ribbon and repeat with the remaining pouches.
5. in a wide, shallow pot, combine the stock, sake, and sugar and bring to a boil over high heat. adjust the heat to maintain a simmer and add the pouches, seam side down. simmer the pouches for about 10 minutes. then add the soy sauce and simmer for a final 2 minutes.
6. to serve, place the pouches on a plate and spoon the remaining broth over the pouches to moisten. serve warm.