Posted on
akhareh taabestaan
this week's cooking: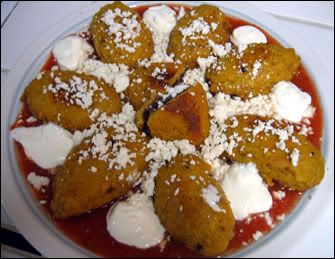 black-bean-stuffed plantain croquettes with tomato sauce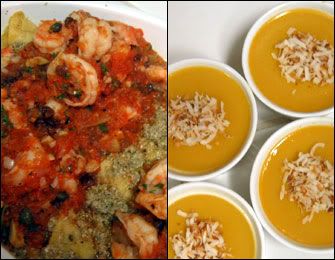 veracruz-style shrimp over tortillas in pumpkin seed sauce | coconut, caramel, and rum flans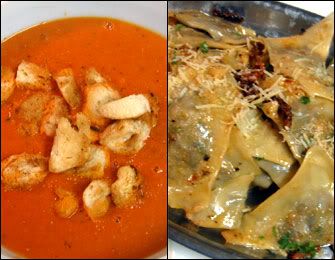 creamy tomato soup with buttery croutons | mushroom dumplings in parmesan and sun-dried tomato sauce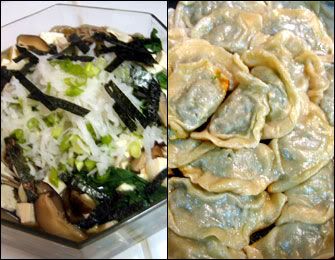 warm soba in broth with spinach and tofu | garlic chive and beef potstickers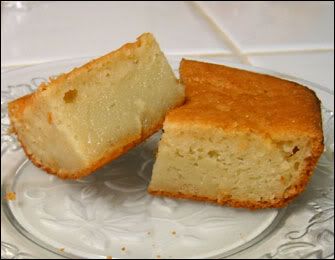 hawaiian-style butter-coconut mochi
i finished reading life of pi last night. i loved it. its brilliant, but i'm still not sure if i understand the end properly (or at least which version to believe).
i also saw promises last night, and i highly recommend it to anyone with the slightest interest in the israel-palestine conflict. the special features were just as interesting as the documentary itself, namely the updates on the children.
here's the recipe for the mochi (this one is super easy and yummy):
1 lb mochiko
2 cups sugar
2 teaspoons baking powder
1/4 teaspoon salt
2 14-ounce cans unsweetened coconut milk
5 eggs
1/2 stick melted butter
1 teaspoon vanilla
1. preheat oven to 350F.
2. whisk together dry ingredients in a large bowl. mix together wet ingredients in another bowl. add coconut mixture to flour mixture, whisking until batter is combined.
3. pour batter into an ungreased 13-by-9-inch baking pan, and bake until top is golden and cake begins to pull away from sides of pan, about 1 hour and 25 minutes. cook cake completely, about 2 hours. cut mochi into squares before serving.